Bringing DEXs to Normies — One Transaction at a Time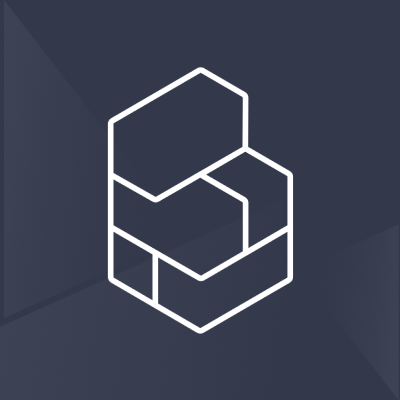 Blocknative
December 4, 2019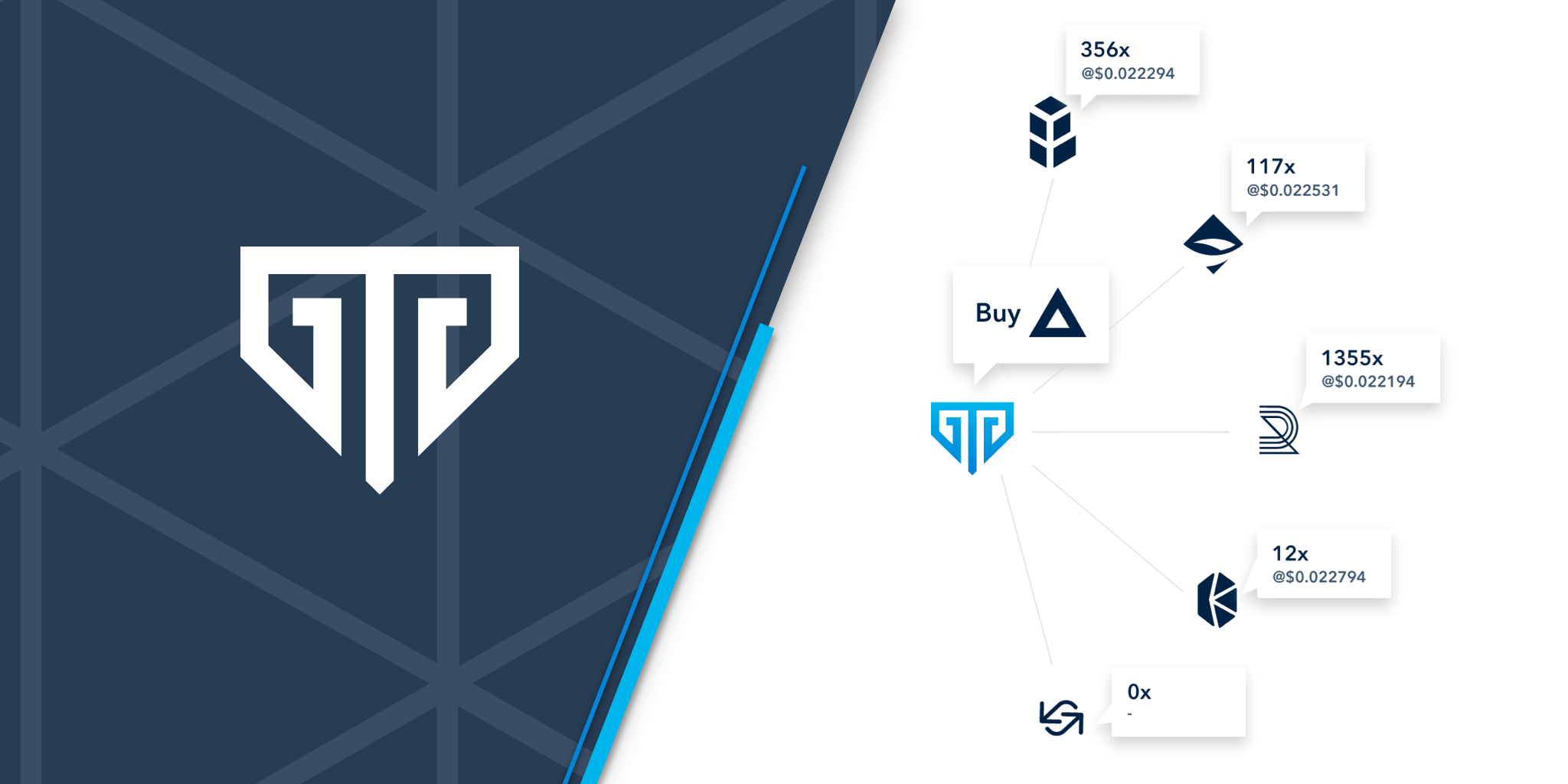 Using crypto is hard. Right?
This meme has been prevalent in the blockchain community for some time. But many projects are working to abstract the complexity away and make blockchain-based products accessible to average users.
Totle — an aggregator of decentralized liquidity — easily enables users to swap tokens and engage in the Web3 ecosystem. Their user interface takes the complex task of exchanging cryptocurrency and makes it easy for the average person to do. Totle was one of the early adopters of Blocknative and has recently upgraded to Notify — our most powerful real-time blockchain transaction notification infrastructure.
To celebrate, we wanted to show the ecosystem how easy it is to create a swap on Totle. Why? Because Blocknative believes that for blockchain to reach its potential, we have to move beyond the "crypto is hard" meme and focus on ways of abstracting that complexity to provide users with simple interfaces and clear benefits.
How to Swap Tokens on Totle
1. Go To Totle.com And Click On "Totle Swap"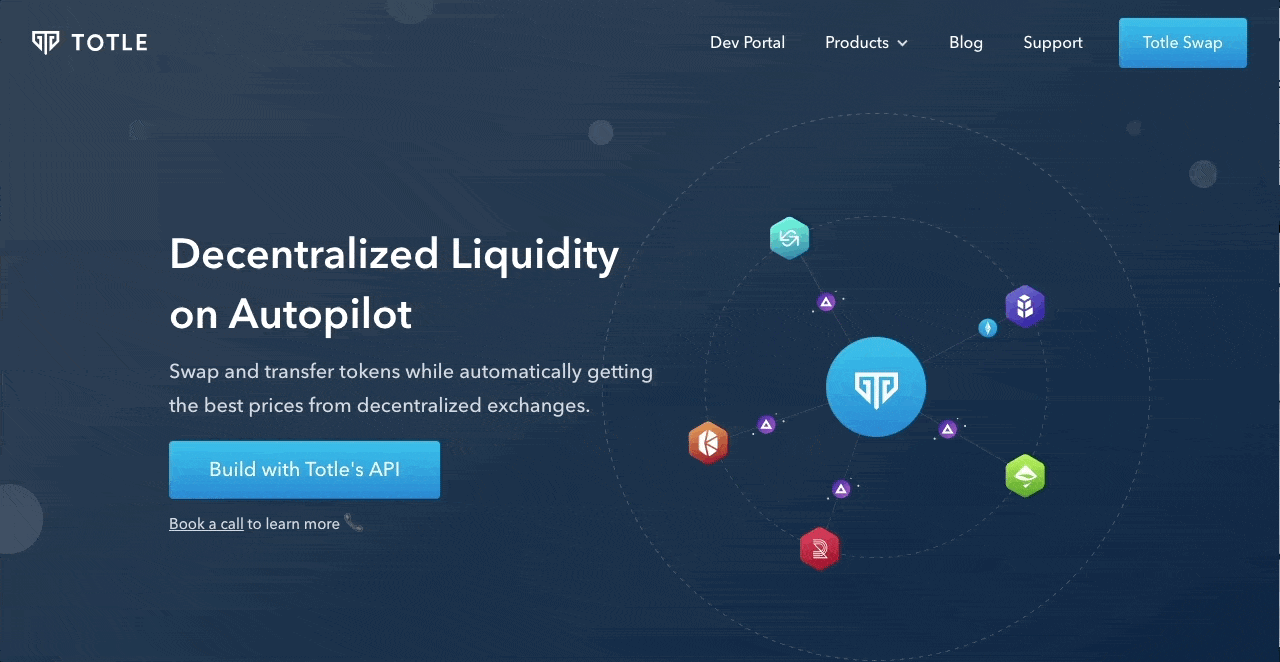 When new users land on the Totle Swap interface, they will be greeted by Blocknative's Onboard.js Wallet Picker. It will help them choose a wallet, connect to the Dapp, and ensure they're connected to the right network.
2. Select Tokens To Swap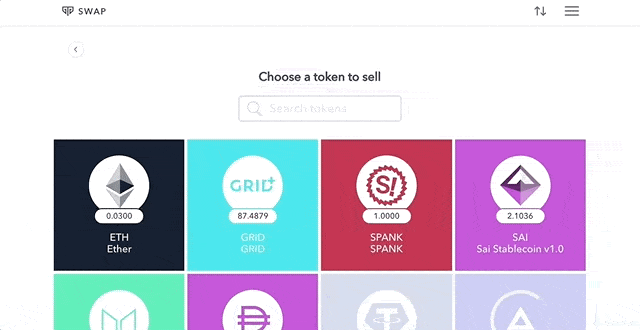 Once a user has connected their wallet, they can select any token that they have and choose to swap it for other tokens. Totle will instantly scan a diverse liquidity network and find the best price for the user.
3. Confirm The Swap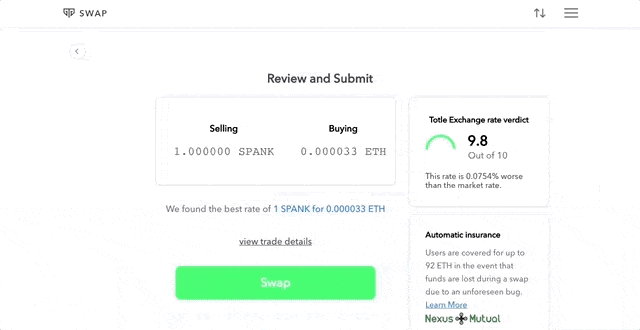 A user can then confirm the swap with one click — and with Blocknative's Notify they'll get real-time updates as the transition moves from pending to confirmed.
That's it. As easy as 1, 2, 3. Totle lets users swap tokens quickly and easily. And the Totle API empowers Dapp devs to integrate their functionality into their site — letting users conveniently get the tokens they need without having to leave your platform.
Abstracting Away The Complexity
As Web3 moves into the utility phase, it is important for developers to provide end-users with simple to navigate interfaces. By abstracting the complexity away, users can focus on the value that blockchain brings to them.
Transaction notifications and user onboarding are crucial in helping make crypto easy to use. According to David Bleznak, founder and CEO of Totle,
Working with Blocknative has been great for Totle. Not only are their products easy to deploy, but they make a huge improvement in the usability of Web3. Blocknative is an important part of the Web3 stack.
As Dapps grow in popularity, tools like Totle will help end-users get started with Web3. Infrastructure that abstracts away the complexity of crypto makes it possible for devs to build easy to use Dapps.
How To Make Your Dapp Simpler To Use
Blocknative builds tools that make it easy for developers to improve blockchain usability. Notify — the framework for real-time transaction notifications — is available via an API, SDK, or robust JavaScript library. And Onboard — our open-source solution to help users get started with Web3 — is available as a JavaScript library.