Blocknative at ETHDenver: You Had Questions, We've Got Answers (And Observations)
Matt Cutler
February 28, 2019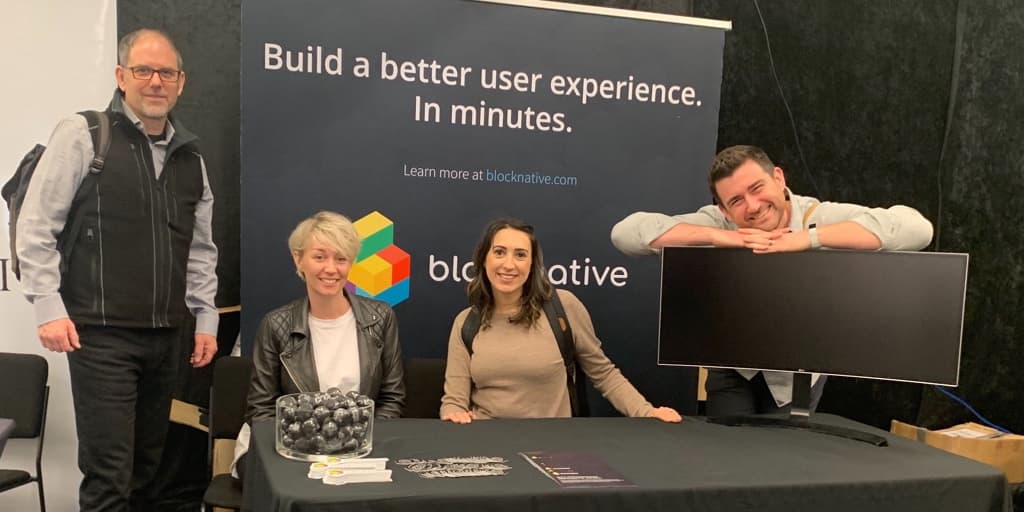 Blocknative recently introduced our Assist.js beta to the Ethereum community at ETHDenver 2019.
Over the course of a single weekend we had hundreds of conversations with — and gave hundreds of live demos to — an engaged and enthusiastic community of hackers, learners, and industry leaders all pushing forward to create a blockchain-powered future.
In the immediate aftermath of this whirlwind event, our small team sat down together over breakfast to do a retrospective on everything related to our shared experience at ETHDenver 2019. We discussed what we learned, what worked, and what didn't. And along the way, we realized that we'd all heard certain questions again and again.
So, in the spirit of transparency and in giving back to the community, below you'll find a handful of our key takeaways, as well as our high-level observations on the tenor of the industry today.
Frequent Question: Wait, are you building a UX Protocol for Ethereum?
Well… not yet. 😉 Assist.js is a javascript widget that can be easily embedded into dapps to rapidly improve end-to-end usability. Check out our Github here.
Our Observation: For the past several years, the entire Ethereum ecosystem has been building core infrastructure. We're now at a stage where many of the core tools have been built — and companies like Blocknative, Portis, Fortmatic, and others are beginning to provide developers with easy-to-use tools to launch usable dapps quickly.

Common Question: How long does it take to install Assist.js into my dapp?
Under typical circumstances, installing Blocknative Assist takes less than 15 minutes.
Our Observation: We had a bounty up for grabs for the fastest integration, and the winning team installed Blocknative Assist in under 41 seconds!
Typical Question: Is the future fully decentralized?
Parts of it? Sure. All of it? Tougher to say.
Our Observation: We see a lot of debate in the Ethereum community surrounding degrees of decentralization. Our view is that, in order to drive the next wave(s) of end-user adoption, we collectively need to be pragmatic and meet people where they are.
Our best guess is that the future holds progressive decentralization for users. For instance, one could imagine a world where a user hits a dapp and signs up simply — letting their keys be managed behind the scenes. After the users learns some of the basics, gains confidence, and perhaps even improves their personal security practices, then they can transition to controlling their private keys.
Representative Question: Is Assist.js customizable?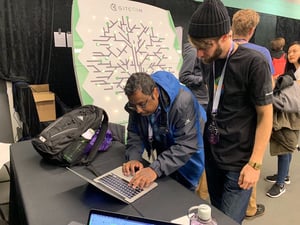 Yes, Assist.js is highly customizable. You can use whichever capabilities are most relevant to the current state of your project.
Our Observation: In this industry, builders tend to avoid a one-size-fits-all approach. We designed Blocknative Assist to be customizable to reflect your unique product, experience, and tone.
Shared Question: Could I build something like this myself?
Of course you could! But it's a lot of work. With a lot of edge cases. And getting to a user-facing level of fit-and-finish is time consuming. Not to mention maintaining the code while everything around you changes rapidly.
Our Observation: Developers are busy. And few have the bandwidth to invest on an ongoing to basis to stay on top of these common tactical UX challenges. By integrating Assist.js, developers can get back to building core product while we enhance usability.
Frequent Question: As an end-user, I want it to "just work." Why do I need to see the steps in the process?
Right now, new dapp users face a steep learning curve. When it comes to engaging with dapps, they don't always know where to start, what to do, why things are happening, or not happening. This leads to frustration, confusion, and oftentimes, rejection. Because if people don't understand how to use something, they'll avoid it.
To help drive user engagement, adoption, and growth, we've focused on helping you make your end-user experience clear, simple, and relatable. So your users can feel capable and confident. And so that they'll come back for more.
Our Observation: While people might want it to "just work" in theory, the reality is that people are justifiably skeptical about new things that they don't immediately understand. That's why we're letting them know — in human terms — what's happening in real time, and what they need to do to be successful.
Like digital natives today, we believe that one day we'll have a world of blocknatives. We're here to help accelerate the arrival of the blocknative generation through simple tooling, helpful education, and more.
Your Question: How are you making money off of this product?
Right now, we're not monetizing Assist.js. We're focused on making our widget accessible to the entire Web3 developer community.
Our Observation: The industry is hungry for usability tools. We just want you to install Blocknative Assist, use it, and let us know what's working and what's not. We're going to be iterating based on your feedback to create the most useful and valuable product for both developers and end-users. So please give it a go!
Your Question: Where can I learn more?
Visit our website blocknative.com where you can dive into all of our capabilities, sign up for our free beta, elect to get our latest news and product updates, or contact our founders for investment or hiring opportunities.
Final Question: So who were the winners of the official Blocknative ETHDenver 2019 bounties?
Winning $1k for the fastest Assist.js integration:
We published this bounty to see how quickly someone could integrate Assist.js. We hoped to see a team do it in less than 10 minutes. Imagine our surprise when this team integrated Assist.js in less than 41 seconds.
Shout out to Eth This Then That: a point and click interface for making automated bots on Ethereum. Team members: John Storey, Parker Place, Chris Smith, Corbin Page.
Winning $2k, for the most interesting dapp in the world:
This one was hard to judge, as "interesting" is subjective. After our team debated at length, we elected to split this bounty evenly between these two truly interesting projects:
Radical Cities: an Ethereum-based strategy game. Team members: Fabiano Soriani, Ian Pun, Patrick Leung, Sam Hutch
ProjectMap: Crowdsourcing open maps. Team members: Thomas Spofford, Justin Schuldt, Kaz Osterbuhr, Matt Caton-Brown
Winning $1k, for saving more time and building cool stuff:
We wanted to see how much more cool stuff people could build when they weren't bogged down by common user onboarding challenges. The competition for this one was tough, but we were really impressed with how this team used their extra time.
Congrats to Tournament Management Platform who made it easy to manage e-sports tournaments with an ERC20 platform. Team members: Robbie Weinel, Hayden Sharhan, Somesh K S
Winning $1k, for exposing our shortcomings:
We wanted to incentivize teams to find bugs in our code and issues with our platform. Since this was our public beta release, we figured there might be a few. When Siva Puvvadad started integrating, he found an error in our code… and then worked shoulder-to-shoulder with our engineers to fix it — in real time — so that the rest of the teams above could deploy Assist.js successfully.
Huge thanks to Siva Puvvada of KroudCoin, a decentralized version of kickstarter. You earned that $1k – and our gratitude!