Our Brand
Blocknative
Styleguide
Blocknative recently updated our branding to better reflect our vision. If you are a partner or use our logo, please update your usage as described in the style guide.
Logo
The new Blocknative logo includes a new logo bug and customized typography that give the modern mark a strong and forward momentum.
Download logo files
Grayscale
Be sure to use the appropriate file type for the intended use. RGB files are best for electronic uses, while CMYK vector and spot Pantone files should be used for print. Vector files (SVG, EPS) should be used for print, swag, or in web uses where the logo will be scaled.
Do's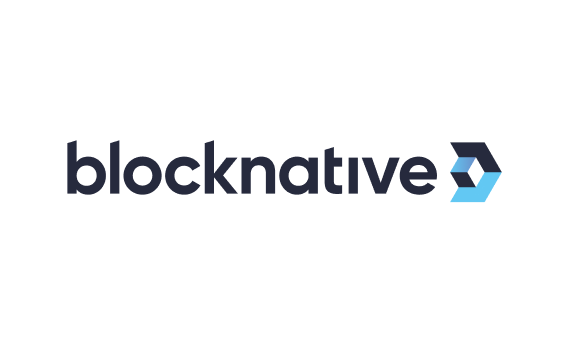 Ensure the logo has adequate breathing room on all sides.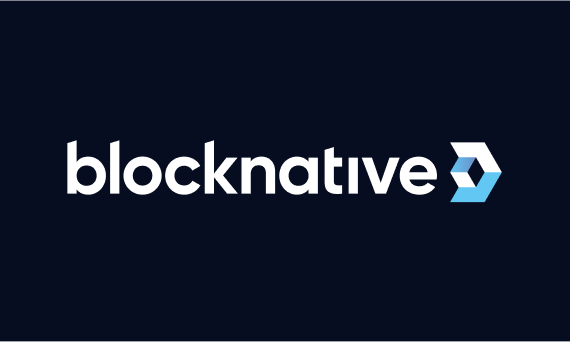 Use the reversed version on dark colored backgrounds.
Dont's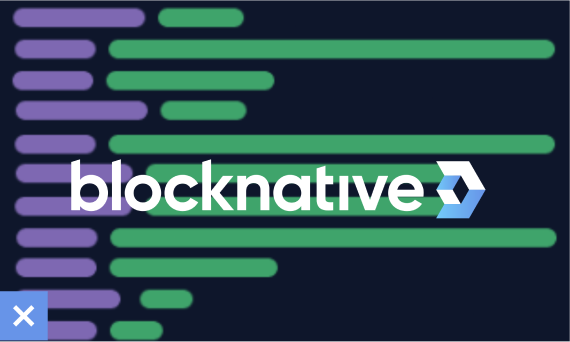 Do not place the logo on busy backgrounds or backgrounds that do not provide enough contrast.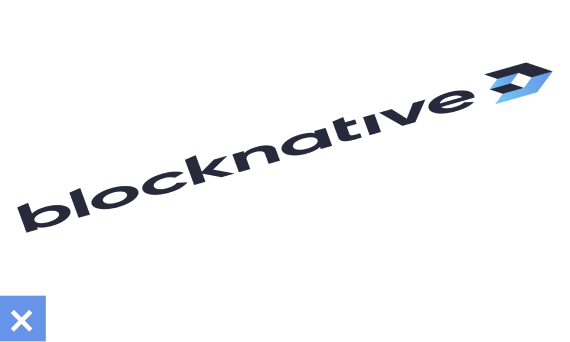 Do not skew rotate, stretch, or scale the logo disproportionately.
Color
The new Blocknative logo includes a new logo bug and customized typography that give the modern mark a strong and forward momentum.
Blue
Purple
Green
Red
Void
Neutral
Learn more about Blocknative
Explore the Blocknative blog to stay up to date with all that our team is up to.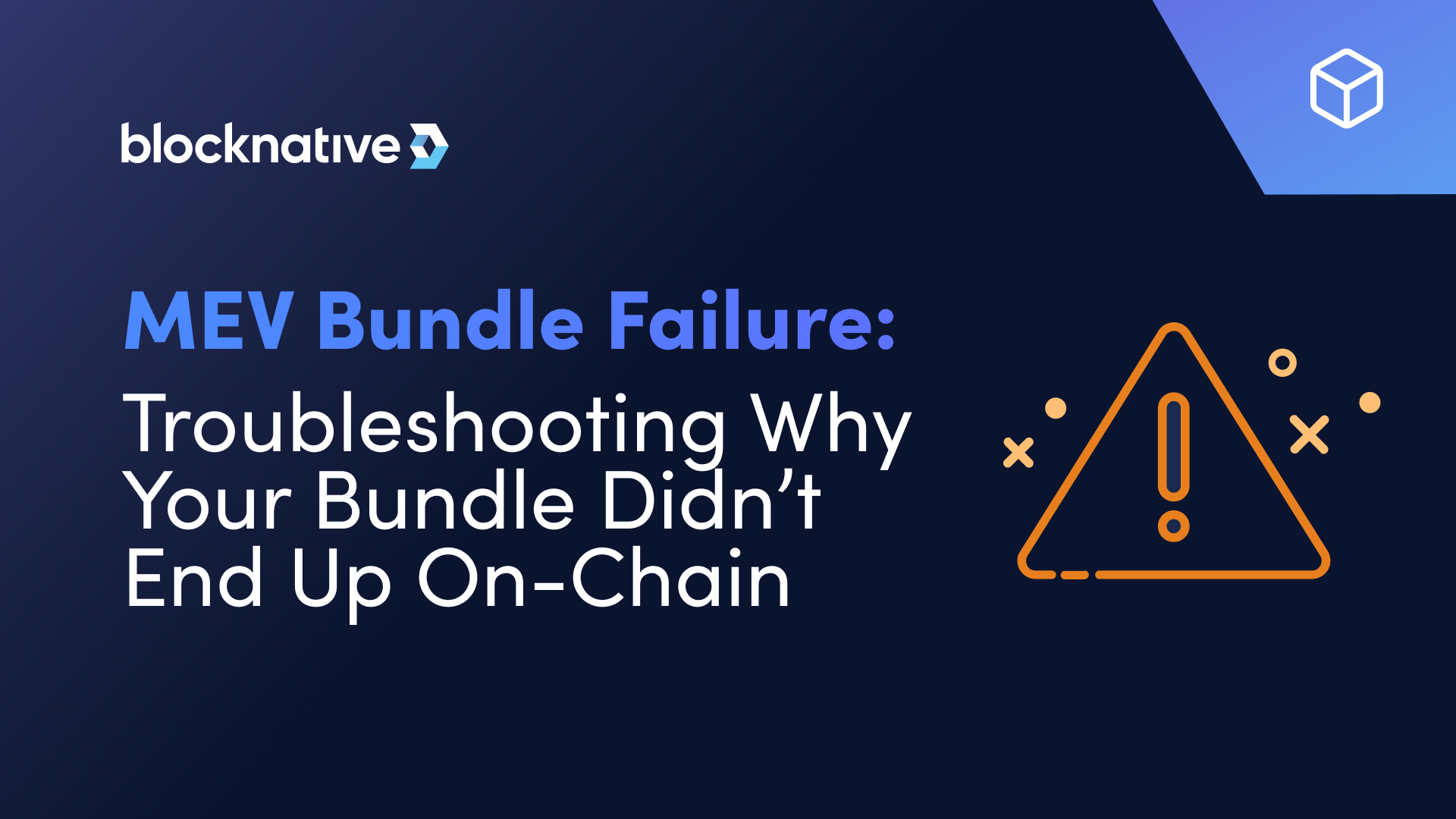 MEV
MEV Bundle Failure: Troubleshooting Why Your Bundle Didn't End Up On-Chain
Opportunities for extracting MEV have exploded as DeFi has transformed into a multi-billion dollar industry. This has led to an increasing number of web3 participants turning to MEV searching as a potentially lucrative exercise.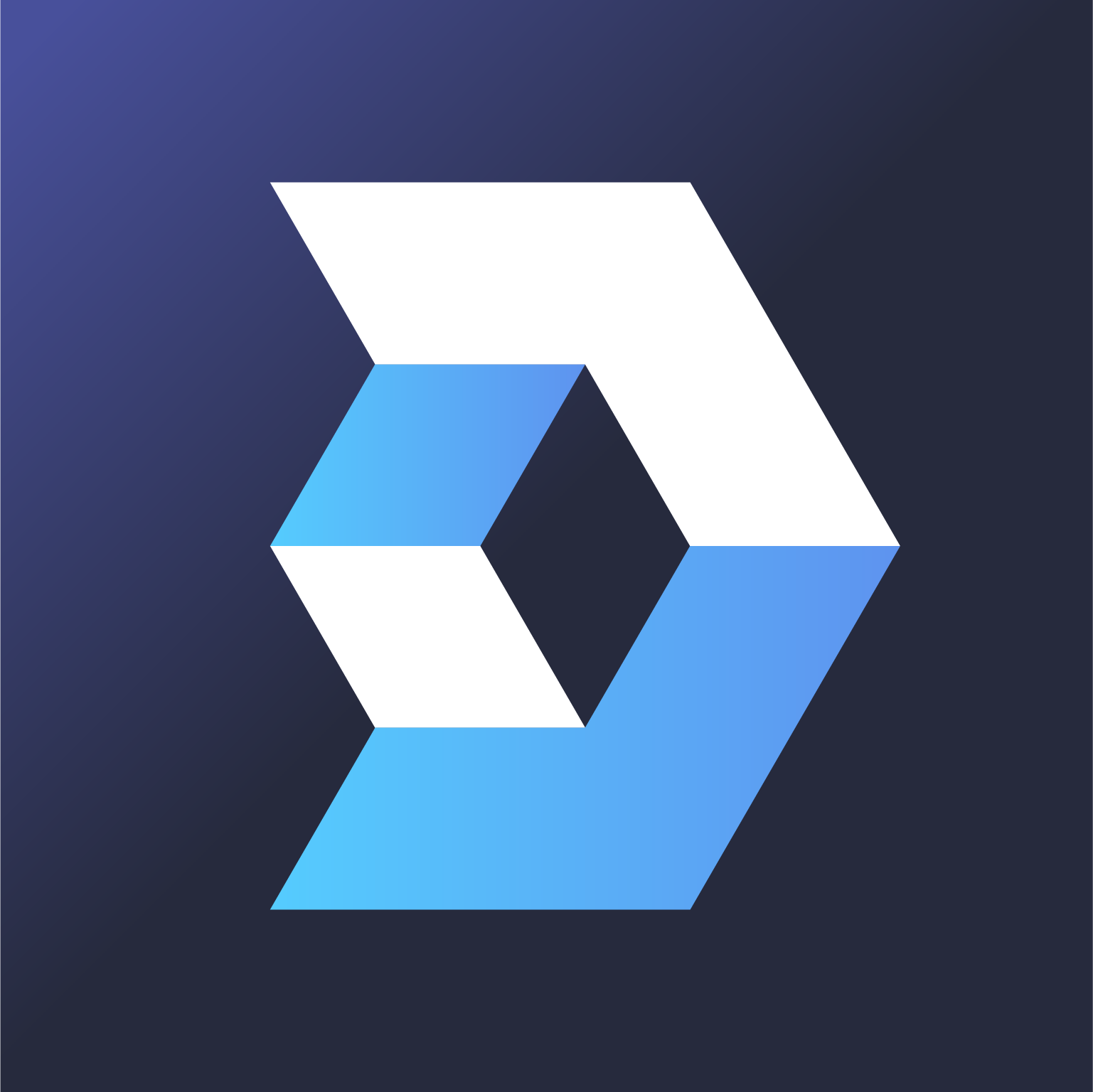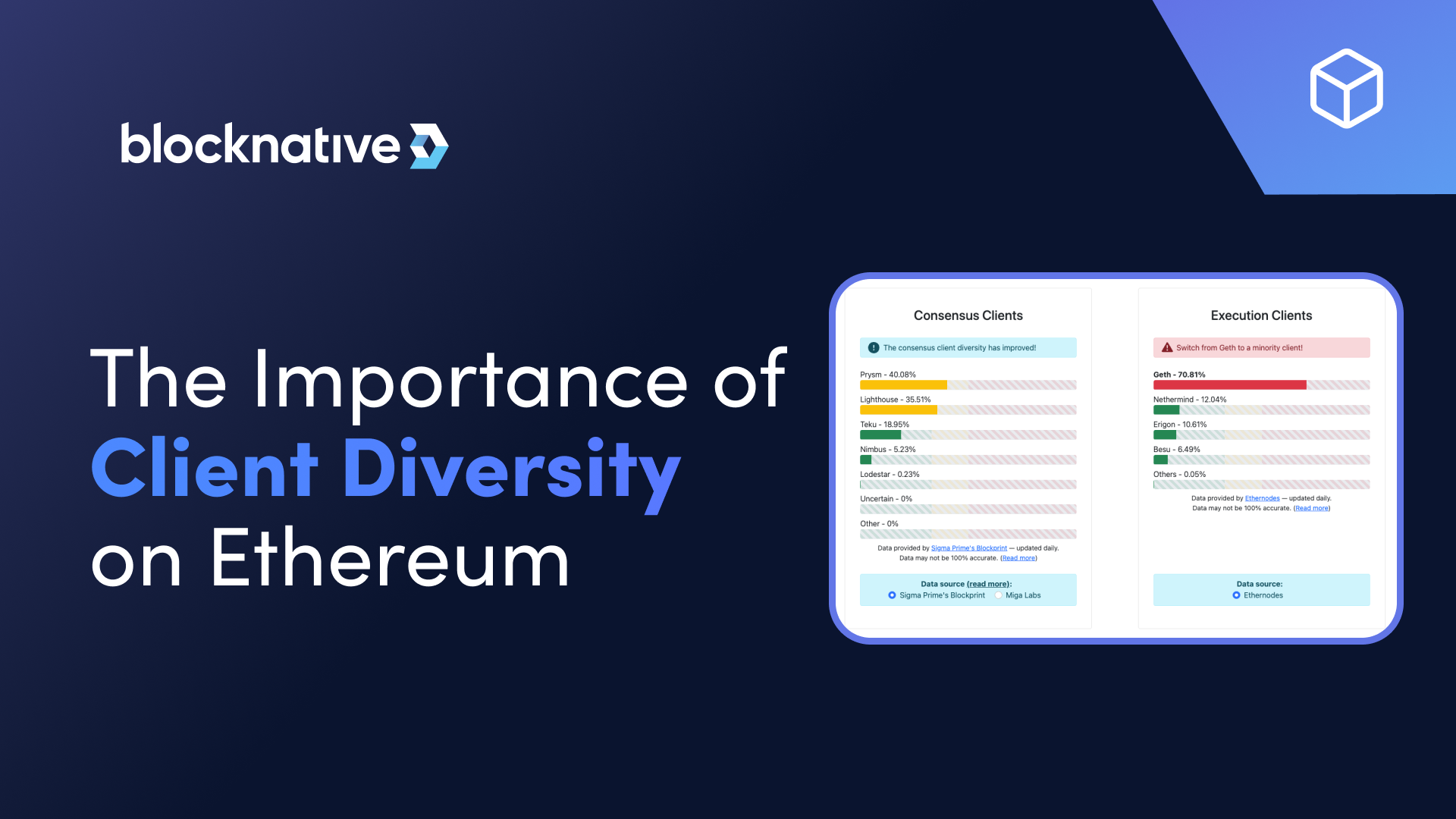 Ethereum
The Importance of Client Diversity on Ethereum
TL;DR: Decentralized networks rely on nodes running a diversity of open standards and applications including peer-to-peer networking protocols, consensus algorithms, APIs, and open-source software. Following the Ethereum Merge and the move to PoS, core functionality powered by execution and consensus clients becomes uniquely critical to the network's future success. A network leveraging multiple, independent consensus and execution clients ensures Ethereum validator nodes operate effectively, securely, and without disruption.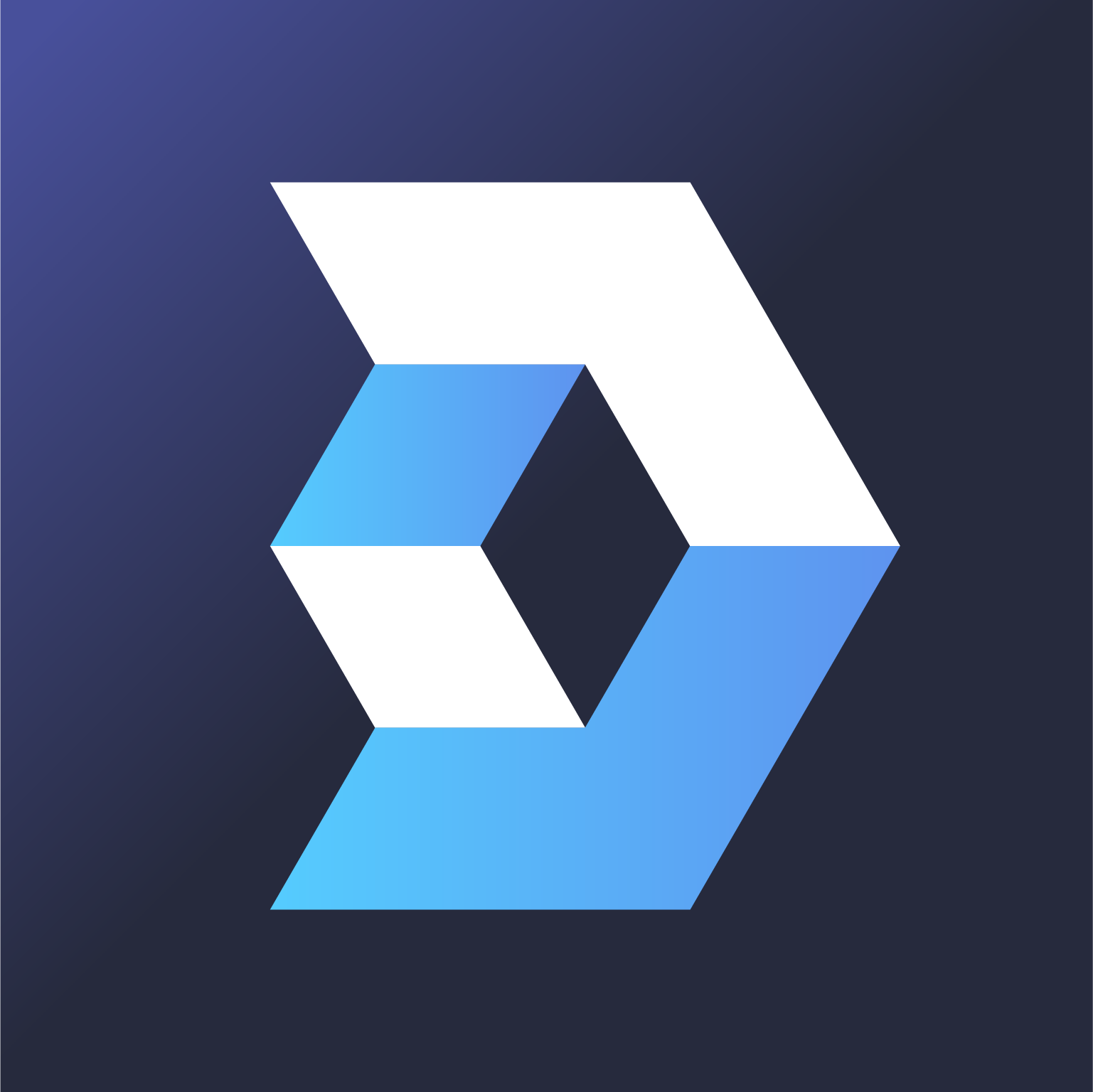 Ethereum
Can You Withdraw Staked ETH?
Now that The Merge is complete, the Ethereum community is turning its attention to the next big upgrade, Shanghai. This network upgrade has taken over a year of planning and will add the finishing touch to Ethereum's Proof-of-Stake system: EIP-4895 (staking withdrawals).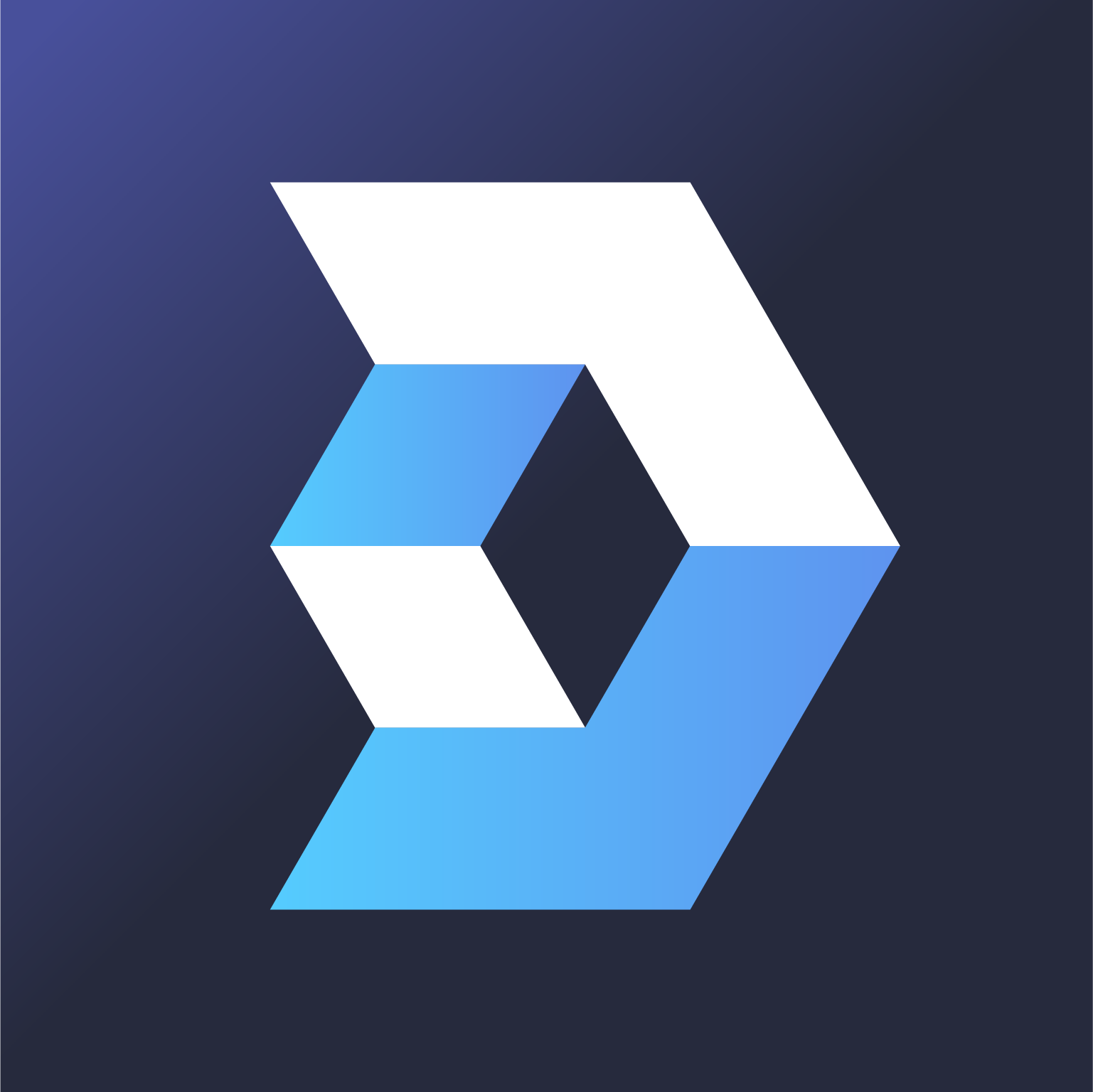 Connect with us. Build with us.
"After first building our own infrastructure, we appreciate that mempool management is a difficult, expensive problem to solve at scale. That's why we partner with Blocknative to power the transaction notifications in our next-generation wallet."