Space Miners is a decentralized round-based game running on the Ethereum Mainnet. Players take turns sending miners to a planet for a chance to win that round's earnings, which are then paid out in the Kerium Crystal (KMC) ERC-20 token. KMC can be sold back to the Space Miners contract at any time in exchange for Ether... but, every time a new round is completed, the relative price of KMC increases so that players are incented to HODL.
When Blocknative was introduced to Nic Smith, the creator of Space Miners, we were struck by the retro look and feel of the Dapp. According to Nic:
The '80s were my childhood and I wanted to build a Dapp that called back to that era. For Space Miners, I've spent a lot of time designing the front end. Based on early player feedback, I was looking to make the game easier to use but didn't want to compromise the game's carefully crafted 'vaporwave' aesthetic.

I was excited to learn I could customize Blocknative's front-end notifications to match my Dapp's look and feel. This was crucial for me as we wanted to ensure that the design theme remained consistent so that our players can get fully immersed in the story.
With the Assist.js integration, Space Miners now has world-class blockchain transaction notifications and user onboarding — all styled to match its retro UI.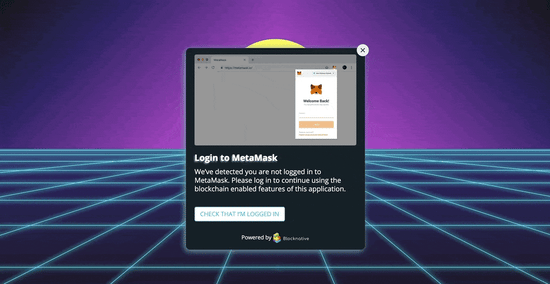 The integration with Blocknative took Space Miners just a few days. Nic remarked, "Blocknative is really easy to use. So much so that I'm already planning to use Assist.js in my next Dapp. I'm also excited about the new notifications API since it will help me debug as I'm building."
In creating this game, Nic combines a classic retro aesthetic with cutting edge decentralized technology. At its core, Space Miners is a game that is about chance and the opportunity to win a round — and then decide whether to convert to ETH or to HODL. Its smart contract uses a token bonding curve to increase the price of KMC with each round of the game.
The game's UI and incentive mechanism were both deliberately designed to provide players a compelling experience. And we at Blocknative are excited that our framework is being leveraged to improve and extend the UX of this game.
Want to improve your Dapp's Transaction Notification UX?
Blocknative is the notification framework for Dapps and wallets. With Blocknative Assist, you can give users real-time updates on blockchain transactions — increasing engagement, improving retention, and driving growth.
Want to learn more about how we can help grow your transaction volume? Join our Discord server.
Master the
Mempool

today.

Blocknative's proven & powerful enterprise-grade infrastructure makes it easy for builders and traders to work with mempool data.

Start for free