Mintable is focused on driving NFT adoption. To accomplish this, Mintable builds tools for creators and end-users of digital collectibles. Their Dapp makes it easy to mint, manage, browse, and exchange ERC-721 assets in seconds. Since launching, Mintable has worked to improve engagement and reduce end-user anxiety when transacting on Ethereum.
Shortly after their launch, the team behind Mintable was introduced to Blocknative. We initially connected over a shared concern for the anxiety that occurs for end-users when they send or receive on-chain assets. According to our user research, the ambiguity around what happens from the time a user sends a transaction until it is confirmed causes a great deal of stress.
Mintable was excited about the prospect of using Blocknative to make it even easier for its users to create and manage digital collectibles.
With Onboard, when users arrive at Mintable for the first time, they are taken through the steps to get ready to transact. Zach Burks, the founder of Mintable, told us that Onboard (Blocknative's connect wallet button solution) has been critical to helping new users get started. According to Zach:


Since launching, we have helped users deploy over 400 contracts to Mainnet. In doing so, we found that new users often get lost when engaging with Ethereum for the first time. To help them get started, it is crucial to have clear steps on how to install a wallet, get ETH, and connect to the right network. In the last month, Blocknative detected that about 10% of our users were on the wrong network — clear directions are critical to helping users transact.
In addition to leveraging Onboard, Zach has also deployed Notify — Blocknative's transaction notification infrastructure. Notify keeps users up to date on their transaction status without having to leave your Dapp. Powered by a network of mempool nodes — Notify monitors for every transaction state change.
Keeping Users Engaged With Custom Notifications
Mintable is using Notify to help keep users in the loop as they mint or trade ERC-721 tokens. In addition to the standard transaction notifications — Mintable uses Notify to send several custom notifications. With these custom notifications, Mintable is able to provide users with alerts that are specific to actions within the Dapp. This extra level of clarity provides a more cohesive user experience and helps users transact with confidence.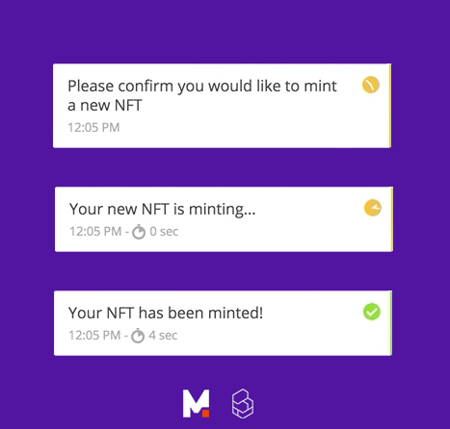 Users Receive Notifications That Are Specific To Mintable
Blocknative currently supports two types of Custom Notifications — customization of standard notifications to match your Dapp's language and unique notifications based upon actions within your Dapp. When a user mints or transfers a token, the Notify text is customized to match the experience of the end-users. This provides additional clarity for users and reduces any questions they might have around what is happening as their transaction moves from Pending to Confirmed.
Zach also told us:
Transaction notifications have had a huge impact on the usability of Mintable. They ensure users are in the loop at every stage. And since all the notifications are on-screen, it increases engagement by keeping users on our Dapp longer. Blocknative is easy to use and saved me from having to operate my own node — they are a key partner in Mintable's mission to make crypto collectibles accessible to the masses.
Custom notifications can improve the usability of your Dapp — helping users to transact with confidence.


---

Want to improve your Dapp's Transaction Notification UX?
Blocknative is the Notification Framework for Dapps and web3 wallets. For those interested in learning more about custom notifications - explore the Blocknative Docs.
To learn more about Blocknative, click on the button below to schedule a demo:
Master the
Mempool

today.

Blocknative's proven & powerful enterprise-grade infrastructure makes it easy for builders and traders to work with mempool data.

Start for free