Polygon gas fees have risen dramatically as the protocol continues to grow in popularity, causing the number of transactions competing for block space on the network to increase. As a result, it is not uncommon for the Polygon network to sometimes experience higher, more unpredictable gas spikes than Ethereum. These fluctuations make it more difficult for users to accurately estimate a competitive gas price without overpaying.
This is why Blocknative is excited to announce that we have partnered with Polygon to offer the world's most accurate Polygon gas estimator. Anyone in the Polygon ecosystem can now use Blocknative's gas platform to see real-time polygon gas prices on our webpage, through our gas API, or our browser extension.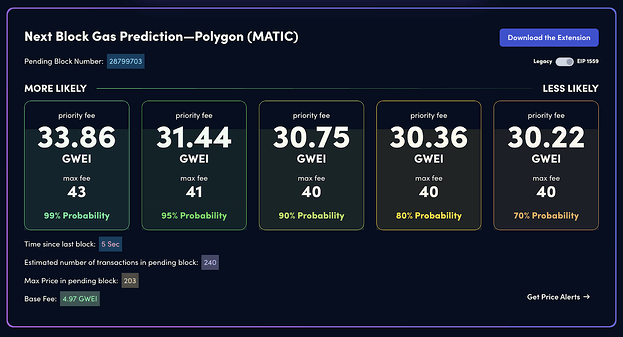 This update comes with support for both Legacy and EIP-1559 gas prices. Users of our Gas Estimator webpage and browser extension can also enjoy a visual interface that depicts recent gas prices by block (broken down between base fee and priority fee) and a 7-day gas price heatmap.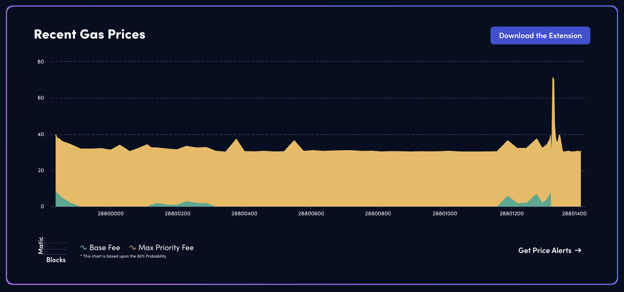 Recent Polygon Gas Prices Chart Example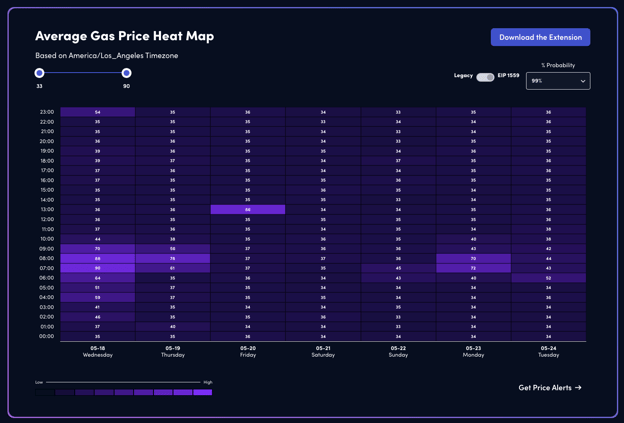 7-Day Polygon Gas Price Heat Map Chart Example
The most accurate Polygon gas estimates
Blocknative is able to provide the most accurate Polygon gas estimates by inspecting all broadcast pending transactions to predict which are most likely for inclusion in the next block. Using this real-time mempool data and existing machine learning pipelines, Blocknative is able to provide intelligent max fees so you or your end-users can always get on-chain with confidence.
In testing our new gas capabilities, we found that our Polygon Gas Estimator provided significantly lower overpayment at a 99% confidence level than the competitor's gas estimates at even a 90% confidence level (categorized as "fast" on their platform). In this context, a 99% confidence level means when setting your gas to this price there is a 99% chance that the transaction will be included in the next block.
In fact, by averaging data from a one-week period (May 6-13, 2022), Blocknative found that using a competitor's "rapid" gas estimates resulted in paying more than triple what Blocknative would have recommended for the same confidence level (95%).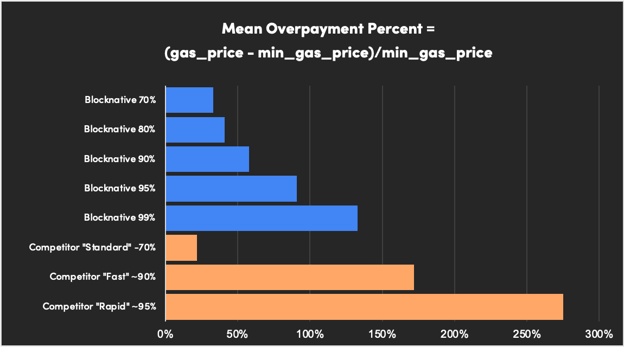 At a 95% confidence level, Blocknative's Gas Fee Prediction accuracy reduces over-gassing by more than half (from ~170% to ~90% overpayment) when compared to a competitor at the same confidence level.
Switching to Blocknative's 99% confidence interval would have cut the amount these users had paid in gas fees in half while still being just as competitive for the same block space. An overview of the data from that time period, as well as the confidence intervals we calculated for the competitor's "rapid," "fast," and "standard" gas speeds has been included below: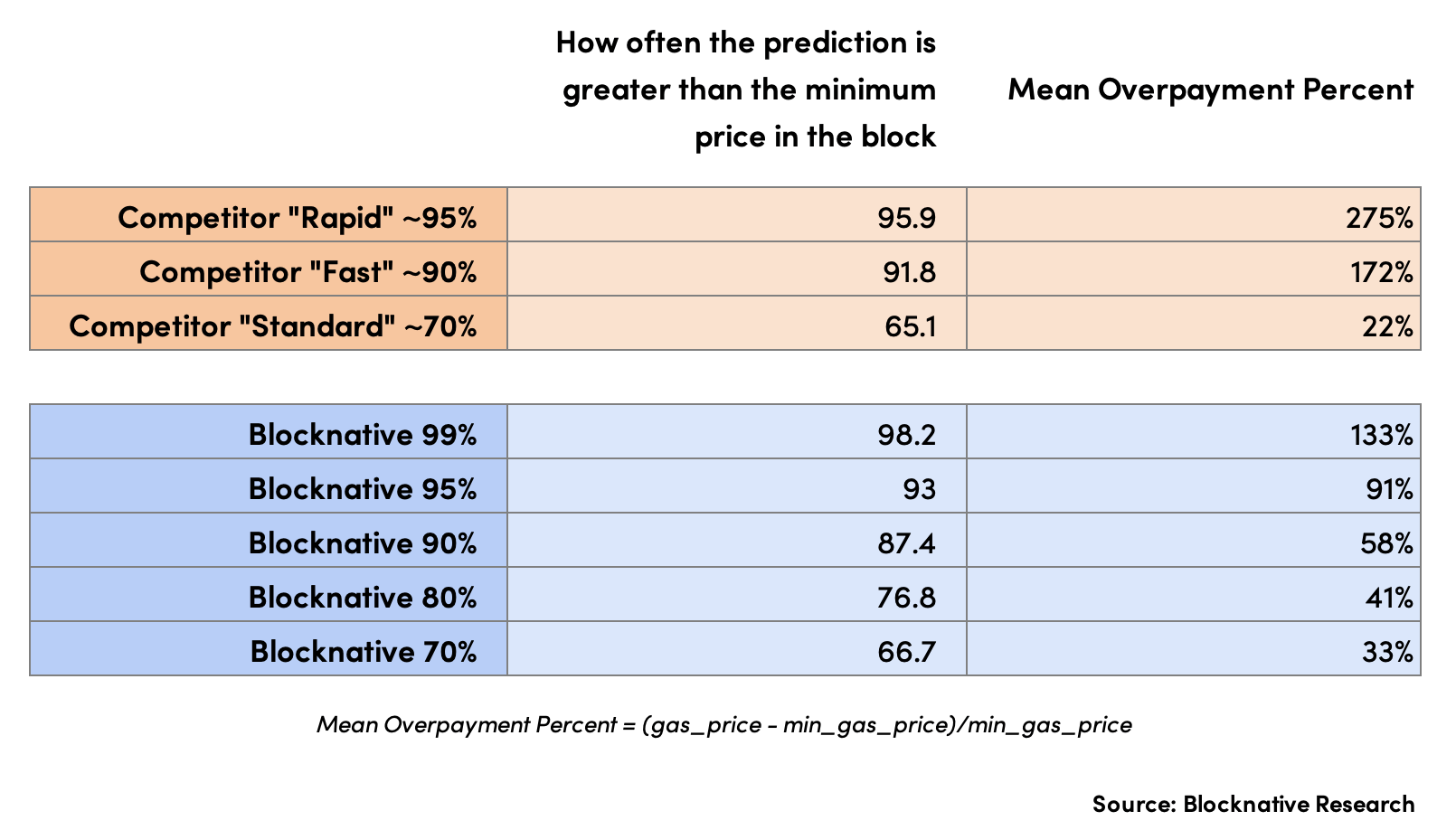 If we zoom in on a specific hour comparing Blocknative's Polygon gas estimates with that of the leading competitor at the same 95% "rapid" confidence interval, we can see more clearly how much closer Blocknative estimates were to the actual minimum gas price for any given block.

1-hour timeframe depicting Blocknative gas estimates vs a competitor's gas estimates at a 95% confidence interval compared to the actual min gas price for a given block.
Accurate Gas Estimates are a Public Good
A lack of access to accurate pre-chain data like accurate gas estimates perpetuates information asymmetries and structural inequity across network participants. Those with access to clear and accurate pre-chain data have an unfair advantage over those that do not. This is why Blocknative has partnered with Polygon to provide the community with the most accurate gas estimation capabilities, helping users save money and transact with confidence.
"At Blocknative, we believe that access to pre-chain data – including accurate gas price estimation – is a public good for Web3," said Matt Cutler, CEO of Blocknative. "We are excited to be partnering deeply with leaders like Polygon to level the playing field and provide best-in-class real-time infrastructure to their vibrant ecosystem of builders, traders, and end-users."
Providing reliable and accurate gas estimates is just one of many ways that Blocknative is enabling access to Polygon's pre-chain layer.
Start building with Blocknative for Polygon
Blocknative's Transaction Orchestration platform provides Polygon network builders and traders with continued support for the web3 transaction lifecycle, including:
Blocknaitve enables you to build new types of Polygon-based applications. Explore the docs to go hands-on today.
Try our Polygon Gas Estimator today
Our Polygon gas estimates are available to all Polygon builders and traders as an API, via our Gas Estimator webpage, in Mempool Explorer, and as a Browser Extension. Gas estimations are available at different confidence levels so you can always get on-chain with confidence.
Our Gas Extension is easy to install and the best tool to receive real-time Polygon and Ethereum gas updates right in your browser. Start saving money today; to install our browser extension, all you have to do is visit the following links depending on which browser you are using:
The Blocknative suite of Web3 transaction orchestration tools will make an immediate impact for any builder, trader, or user on Polygon. As always, make sure to connect with us on Twitter and join our community on Discord to let us know how you are using Blocknative to build on Polygon!
Master the
Mempool

today.

Blocknative's proven & powerful enterprise-grade infrastructure makes it easy for builders and traders to work with mempool data.

Start for free